House Therapy: Chapter Four
Ironically, we only went to look at "our" mountain house as an afterthought — as a back-up viewing with the real-estate agent.
Our primary target that early-November day was a cute little log cabin in our favorite neighborhood, down on the flats near the lake. There's nothing more "Colorado" to me than a log cabin among pine trees. And the square, high-peaked little structure with its classic ribbed exterior was picturesque-perfect and inviting when we arrived, hosting a blanket of snow on the roof and entrance railings, and a backdrop of flocked pine trees up and down the street and on the ridge above. The neighborhood felt quiet in the way neighborhoods feel quiet after new snow. Dampened. The only sign of obvious life: a very enthusiastic golden retriever who came scampering up the street to greet us and our puppy.
I decided I liked the cabin before we even entered. My heart felt happy with anticipation. Happy with the beautiful distraction.
My favorite part of the inside was the visceral coziness of being surrounded by wood — horizontal logs traveling up the walls, sturdy cross-beams overhead, open wood shelves and plank floors in the kitchen. It felt truly rustic and mountain-y. The interior space was small — one-bedroom, one-bath downstairs but with a good-sized loft upstairs. From the loft area we followed a narrow walkway over the living space below to a small second-floor balcony. Out through the door, John and I saw peekaboo views of the lake and a nice vista of mountain peaks.
However, between the cabin and the lake we could also see two empty lots with For Sale signs. Our first red flag. Would we lose those peekaboo views when those lots were developed?
And when I went back downstairs, I started to really examine the main living space, which was awkwardly configured because of a large wood stove. I couldn't envision how we would fit both living-room furniture and a dining-room table. Maybe we really wouldn't need to have a table?
Despite its potential limitations, we believed we could make it work. The cabin's construction was sturdy and good-quality, and we wouldn't have to do much to it. And, again, the home looked good from the outside. It had curb-appeal. It looked like Colorado.
We quickly began to talk about a potential "buy" offer.
But as long as we were in the neighborhood, we had also picked another house to look at a few streets away. After driving more than two hours from Denver, it seemed like the practical thing to do. So we headed over, up off the flats and onto the ridge above.
This back-up house had been on the market for a long time and seemed, through the real-estate listing photos, to be anything but a typical Colorado vacation house. Sided in aluminum the color of putty, the house had a mix-matched, odd interior. The photographs weren't promising.
It took us less than three minutes to arrive. We gazed up at a little, rectangle, nondescript house on a hillside, with a large deck off the front, a long driveway along one side connecting to the road above, a lower and side yard of brush and pine trees flocked with snow, and an unfinished garage above.
John and I entered through a mudroom into a kitchen filled with pink, vintage Whirlpool metal cabinets and a Formica dining table like I had eaten dinner at as a kid. The walls in the kitchen were painted brown, with one wall dressed in brown, fake-log wallpaper. On the floor, blue-green carpeting in the kitchen extended into the living room and the two upstairs bedrooms and down the stairs to the lower hallway and two bedrooms. The living room had brown wood paneling and overstuffed brown leather and dark-fabric seating, and brown antique stereo cabinets and brown end tables. It was a lot of brown and green and pink. And those colors aren't super inviting together, which is why the real-estate photographs hadn't done justice to what we came to realize was a quiet, but interesting retro gem.
The Sixties kitchen cabinets actually were kind of cool, and I loved the wood-burning fireplace at one end of the living room. The bedrooms upstairs were cozy, and each had a small, retro bathroom with many original fixtures. The living area was roomy enough, filled with furniture. It felt like a home – like we had entered someone's full-functioning, full-sized little house with enough bedrooms, bathrooms, and living and storage space.
It had way more room –both inside and out – than the little log cabin. It wasn't "cute" by any means in the same way the log cabin was. It didn't have curb-appeal. But John said it had good bones.
We saw potential for something more.
And most importantly, we saw the views. Amazing full-on open views of the lake and the surrounding peaks visible from the kitchen, living room, the ensuite bedroom and from the large deck where we stood and gaped at the winter wonderland of northern Grand County.
The views were intoxicating.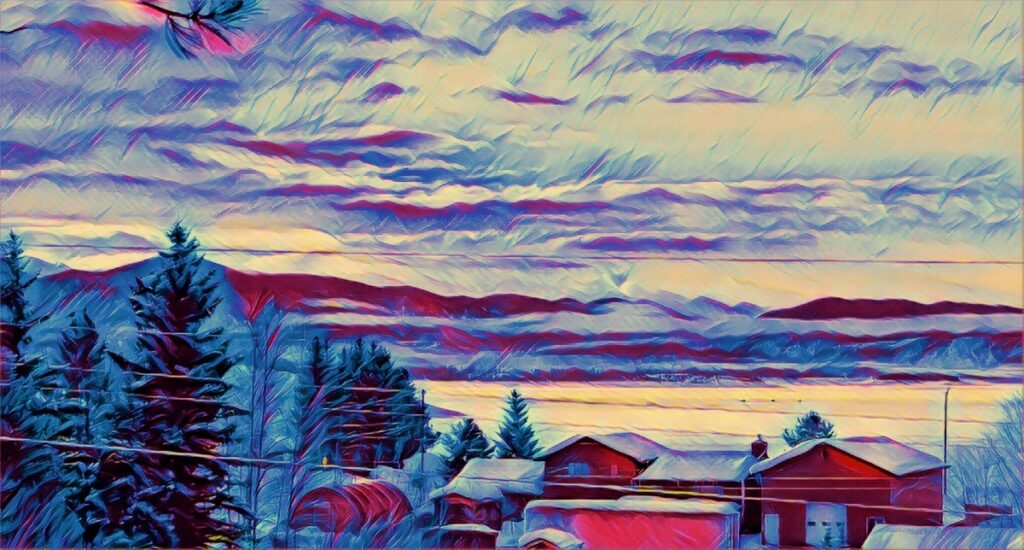 In front of me I saw water and mountains. There were other structures in between, but my eyes were drawn to the lake, to the pine forests, to the snowy peaks. And to the side and back of the house, there was yard and foliage and nature, with the neighboring houses just far enough away.
At a time in my life when I felt a particular need to feel protected and inspired by space and peace and beauty, this little house up on the ridge felt like a refuge.
So we decided: We could fix the design sins of this color-challenged house over time. We could put the elbow work in to create an attractive retreat for guests and a long-lasting legacy for our family.
But what we couldn't do is manufacture these views anywhere else.
***
We drove home exchanging a multitude of ideas and "what if's" for this little treasure we had found.
… And immediately the next day, I learned the preliminary hearing for my case would be continued a second time and that I would have many more weeks to ponder my pursuit of justice.
Quick slow. Quick slow. Quick slow. It's how the lopsided wheel of justice rolls.
Stay tuned for the next chapter of House Therapy.