House Therapy: Chapter Five
Two years ago this week, we closed on our mountain house and became the new owners. It honestly felt so surreal as we signed the final papers from the typical very tall stack, and left the meeting. Was it ours? Was it really ours?
It was really ours! We lived here now. In Grand County, a county we had spent so much time visiting for 20 years. We could now call it home.
John and I felt like kids let loose in a candy story of possibility. There was something new and good in our lives. We needed this good thing in our lives.
After the closing in Winter Park, we officially had possession and immediately drove all the way back to our new house before heading back down to the Front Range. We wanted to be there, even if just for a short bit, to walk through it on our own, be part of the space, savor it, enjoy the real-ness of the moment, look at the views again – out at our neighborhood. OUR neighborhood.
I'd like to think we hugged and stood in front of the dining-room picture window together, gazing out at the lake. I don't specifically remember that. But I'm sure we did. It's what I want to do now as I sit at the table looking out that same window at a snowy scene on this chilly morning. Our thermometer says it's 6 degrees, and the mountains and the lake, not completely frozen over yet, are completely enveloped in a thick fog that is moving toward us.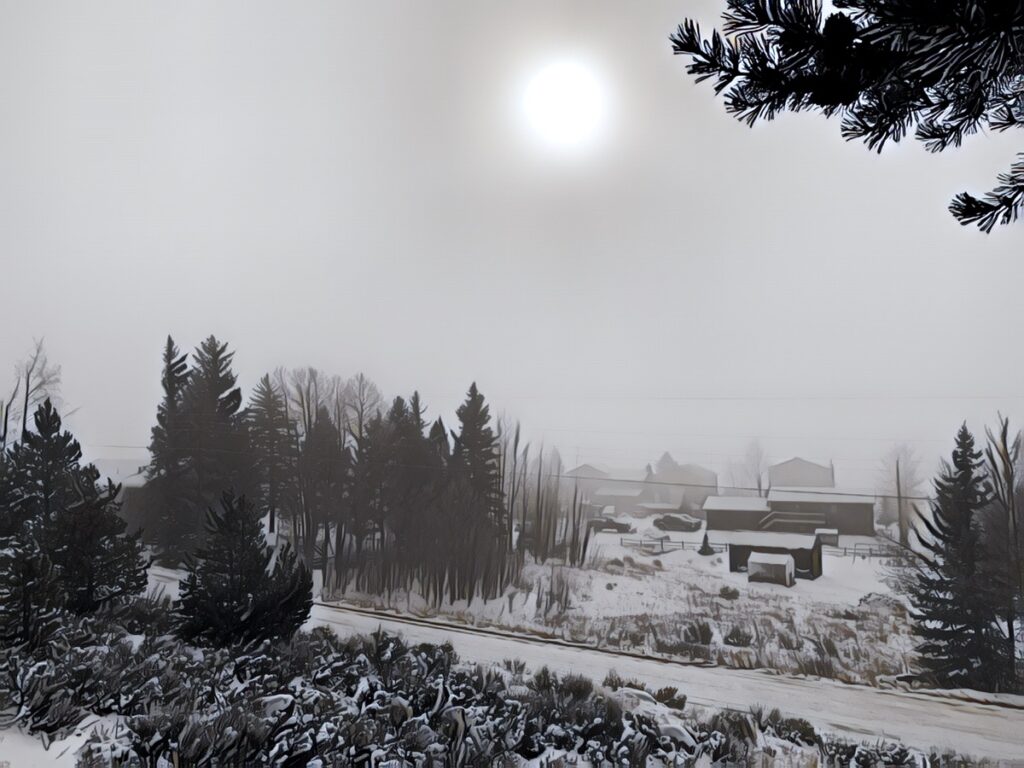 "Someone stole the lake!" I say to John across the table.
"Yes!" he responds, distractedly, immersed in his work.
It's what I always say to him when we can't see the lake. I smile.
That closing day, we also were intent on taking stock at the house of what the previous owner had left behind because we wanted to have Christmas there with the family, camp if need-be on the floor. Just be there, together. We planned to drive back up in a few days with loaded car, one crazy puppy, and the fixings for a basic Christmas, and decorate the place a little bit before "the kids" arrived.
To do that we'd also need a Christmas tree, of course. It wouldn't feel right to have our first Christmas there without one.
So on our way back up to Grand County for Christmas, with our crammed SUV filled with temporary belongings for our new home, we stopped in at Ace Hardware in Granby and purchased a Christmas Tree Hunting Permit. (It's actually called a Christmas tree cutting permit, but that's not what we call it in our family.)
That's a thing here in Colorado — going into the forest to cut down your own tree. It helps thin trees that are too close together in order to make the overall forest healthier. Many families make this an annual tradition, and on cutting days in late November and early December, you will see a caravan of tree-topped vehicles heading over mountain passes and down highways, colorful coated-paper tags tied to the branches or trunks to indicate they've been legally hunted.
We took our puppy and our permit to a nearby cutting location later that day to pick a tree. We parked and on foot headed up a small snowy ridge of fresh powder along a lightly-trodden trail into a large grove of small-ish conifer trees that we could tell definitely needed to be thinned. Our puppy was in heaven, trying to bound away from us on her leash through the deep snow.
The whole lower side of the ridge was filled with little trees packed together, and each was the perfect size for a Christmas tree, between five and six feet high. None were perfect, of course. When you hunt a Christmas tree, that's not what you are looking for and not what you are going to find. Each has some sort of imperfection, with very widely spaced or weak branches, or holes on the sides where one has grown crammed up against another. That's what makes them special and "wild-caught."
Within minutes of arriving and after very little deliberation and comparison, we had selected our first mountain-house Christmas tree, an irregularly shaped little beauty with wide-set draping branches and not too many holes.
But before John sawed through the small trunk, we had a small moment of silence and a brief ceremony to honor the tree:
"Thank you for giving your life to be our Christmas Tree," we said aloud with reverence.
On the way back down the little ridge, John carried the tree and I guided the giddy pup. We loaded the tree inside because it wasn't too big and drove back to the house.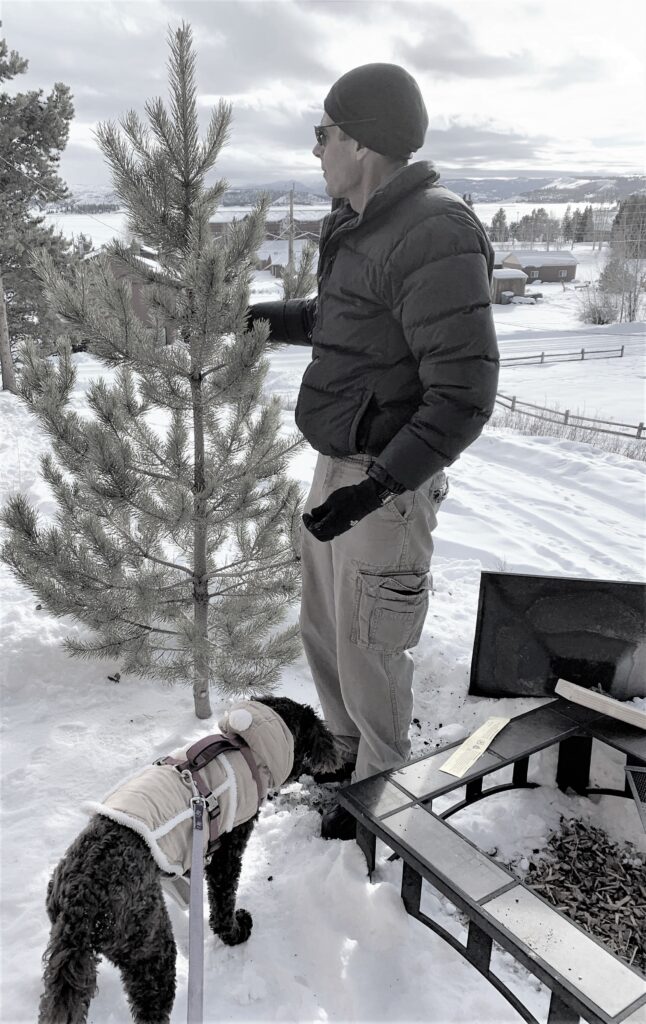 I decorated the tree with white lights; Nicaraguan, Norwegian and Swedish flag garlands; and some extra, inexpensive ornaments I had brought from my historic stash down in the city.
It was beautiful! It was perfect because it was our first tree here.
***
I smile to myself in a sad, bittersweet way as I remember the joy of that day.
The ridge where we found our little Christmas tree two years ago looks different now. This fall the massive East Troublesome fire, which came too close to taking our mountain house here and took the homes of so many residents here, swept that ridge.
All that is left of that little grove of small conifers are spindly black skeletons – endless thin, charred trunks and stiff, splayed branches sticking up through the snow. The black against the stark white of winter is both grotesquely beautiful and artistic, and extraordinarily sad and painful to witness because of the loss it represents in the county and to Colorado.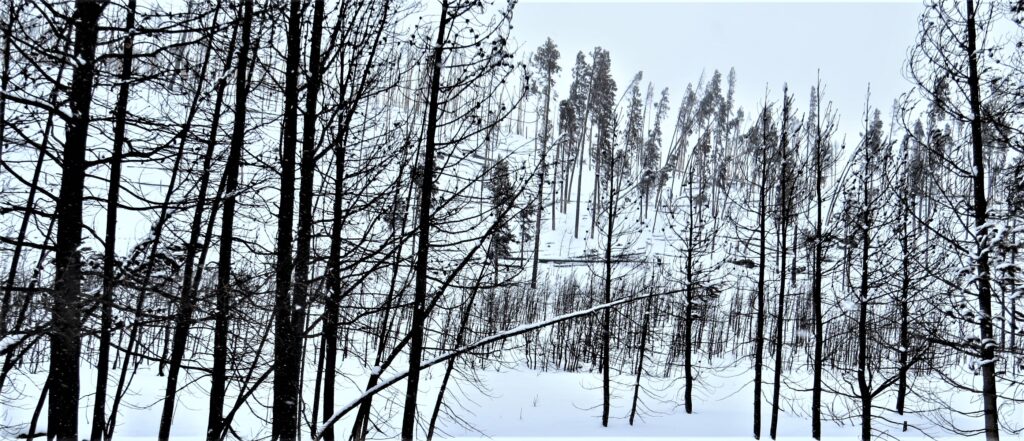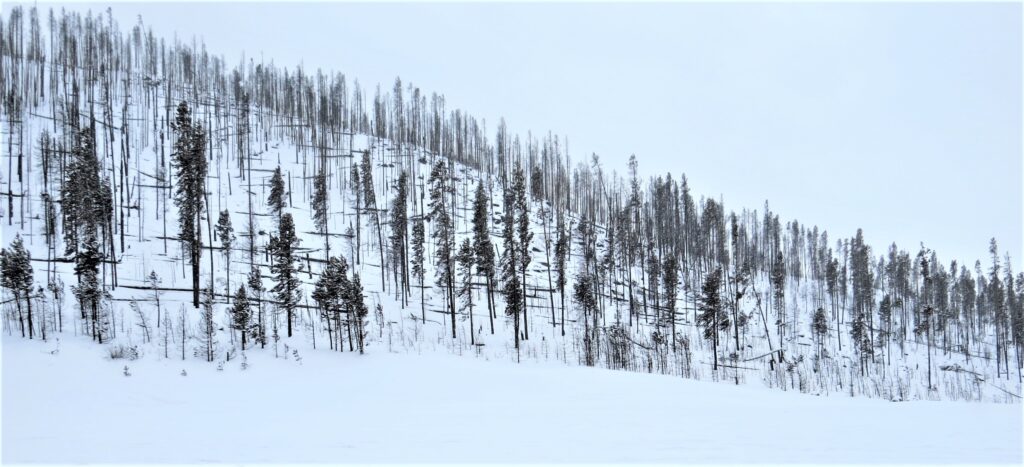 So many, many beautiful trees burned on October 21 when the fire ran north through this part of the county and into Rocky Mountain National Park, burning 100,000 acres in one night. During the overall course of the fire's growth, it took 2 lives, 366 homes and 189 secondary structures, devastating people's lives and livelihoods. As of this morning it has burned a total of 193,812 acres, and was declared fully contained November 30.
***
Last week, back in the city, I assembled our artificial tree — the one I bought 10 years ago at a thrift store for $13, the one we put up during years it's more convenient than getting a "real" tree. This year it's our COVID Christmas tree. This year it represents the safety of fewer contacts during this period of self-isolation.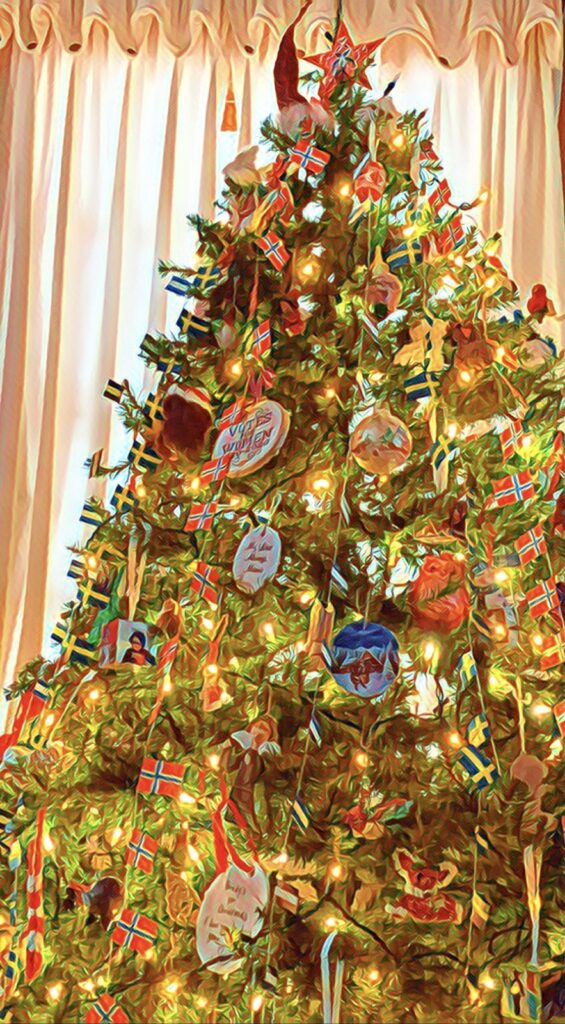 But it also represents so much more to me. And I found myself crying.
As I inserted each branch in its slot, building from the ground up the form of a pine tree, I thought of the newly blackened forest areas in Grand County and felt an immense desire to put each of those trees back together, limb by limb, like this Christmas tree that was rising from the floor. To create a grove of green rising from the snow.
If only.
Stay tuned for the next chapter of House Therapy.