Finding My Triathlon Fitness Again After Sexual Assault
"You gotta keep moving. Once you stop moving, you die."
My dad told me this many times in the decade before he died, although I'm not sure if this message was meant for me, to remind himself of this mantra or to tell me something about himself. Probably all three.
Dad always "moved" and tried to get us kids to move, even if he didn't always do it in the most encouraging way (meaning he yelled a lot). He didn't always know how to teach us, but he tried to instill his passions largely through exposure and small snippets of terse instruction. My siblings and I (and our mom) learned to cross-country ski when we were little because he liked it, and as he developed a deeper interest in bicycling in his forties, he tried to pass that excitement on to us, as well, frequently by forced family bike rides that I hated.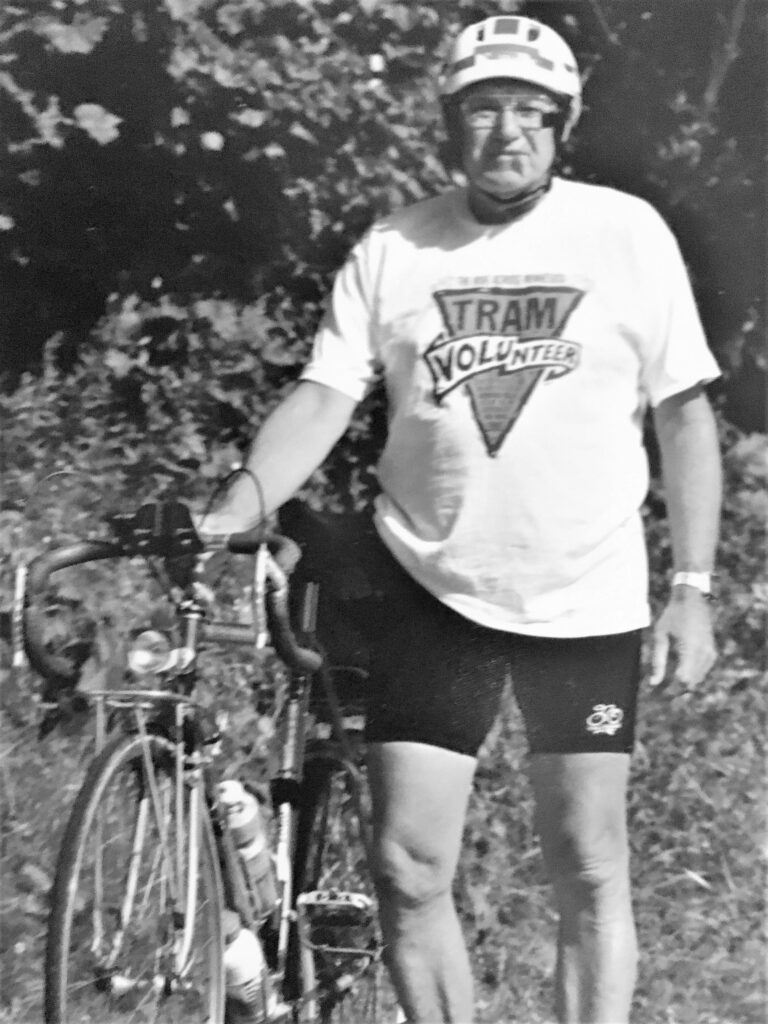 As Dad traveled through middle age and beyond, he did longer cross-country ski races like the Kortelopet in Wisconsin and "Jaunt with Jim" bicycling tours organized by U.S. Senator Amy Klobuchar's father, Jim Klobuchar, in Minnesota. He was never fast, but he had endurance. And after he retired, he bicycled across the United States both ways, West to East, then South to North. He called these two rides Ray Across America, or RAAM, and sent postcards to us from all the states he rode through.
When he stopped doing those sports, he walked. A lot. He and my mom would walk two miles twice a day, morning and evening, no matter the weather. When he developed cancer the first time and was going through chemo, he forced himself to walk throughout it, to keep moving. During his second and final bout with cancer — and after turning down chemo and with the cancer spreading throughout his body — he walked. He walked through the pain. (He even claimed his hip was so degenerated he had to push it back into place during those walks.) And when he at long last could no longer battle the pain and still "move," he decided he was done with life.
I've heard his voice a lot the last couple of years during my recovery from sexual assault and while navigating a major loss of traction with my triathlon fitness: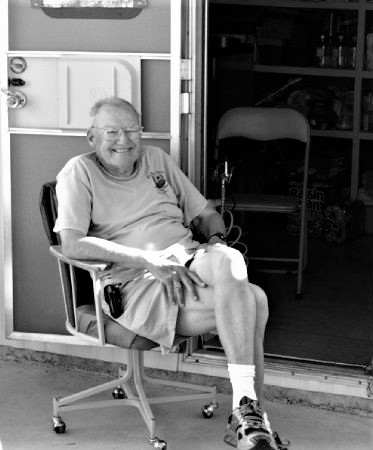 "Just keep moving, Dianne," the gravelly, gruff voice whispers.
I do keep moving. I keep moving forward, baby step by baby step, to regain what I've gradually lost.
Regaining fitness is difficult just by itself for an older athlete. Fifty-something bodies don't work or heal or recover the same as thirty-something bodies. But on top of that I also struggle with lots of body-mechanics problems and chronic health issues, and now PTSD/trauma-related interruptions. And I suppose we can tack COVID-19 onto that.
But I WILL get there. I may have many pauses along the way, but I will get there.
I have a large incentive to do so because I know how much better I'm able to handle what life throws at me when I feel fit and strong, when I keep moving.
It's hard, though. During the last two years it has constantly felt like one step forward, one step back. I know that's a modified cliché, but I don't know how else to describe it. It's just really crappy and frustrating sometimes as I repeatedly start to get traction, make progress, and then something comes up: a knee issue, a back issue, a health issue, a trigger.
Whatever. … Sigh. I start again.
I've really had to learn patience throughout my recovery, in many directions of my life — learn how to be OK with where I am at that moment and trust in the journey. But sometimes I wish I could skip the hard part and just BE THERE NOW. I wish I could Jeannie-blink and be fit again (just like I wish I could Jeannie-blink and we'd be past COVID).
But I also know the journey of getting there is what I will look back on, learn from and make use of in the future. I'll appreciate it. This is what I know because of my age. This is one of my middle-age superpowers.

It's the journey that makes me strong. I know this because it's not the first time I've been through the process.
Back up a decade: I entered my 40s with a lot of chronic health issues I couldn't quite figure out and also struggling with my weight. I had yo-yoed up and down since college, weighing 184 at my highest.
Finally, as happens with a lot of people, I got tired of being sick and tired. I was willing to do whatever it took to make the changes, to feel strong. To jump and leap and run. I'd look at people jumping over obstacles in the park like gazelles and lean, strong bodies running past me in herds; I wanted to do that. My body wanted to move.
It was then I started the long journey of figuring out what works for my body and how to keep it healthy and in tune. This took years of trial and error, searching for the right resources and support, and ultimately deciding that feeling good was more important than my cravings for pizza. That sugar was not my friend.
And like my dad, I took up a sport in my forties, triathlon, and trained hard not only at swimming and running, which I love, but also bicycling, my arch nemesis since my dad's forced family rides, and strength-training, which I had never really done.
By the time I entered my fifties, I was the healthiest and in the best shape I had ever been in.
That's where I was in life when I was sexually assaulted. And my attacker surely didn't know that when he saw me in a bookstore. I often remind myself: He didn't know he was messing with a triathlete. A 51-year-old athlete. It feels good to say that. It gives me some personal satisfaction after a terrorizing situation. In the moment of attack, my brain responded with fight, and I know my athletic training helped me carry out the order, to fight for my life.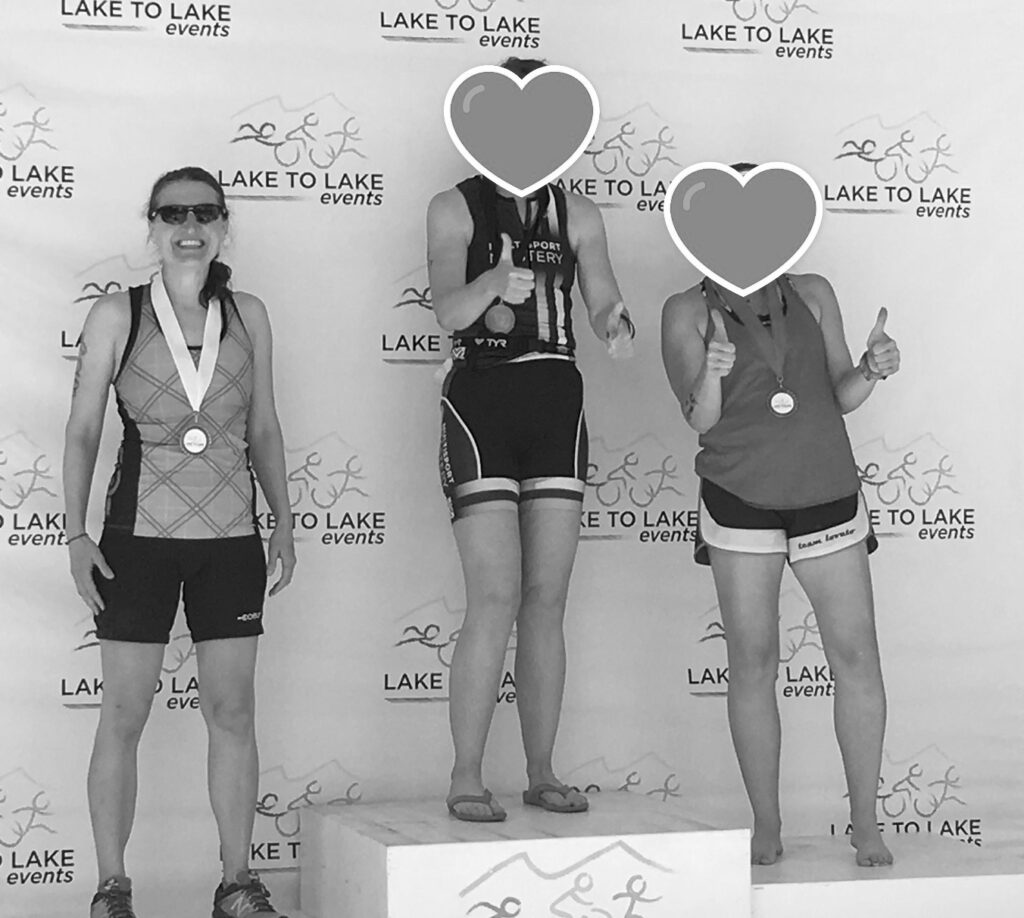 Interestingly, I was able to keep my fitness for a few months after the assault, and I had my best performances in races, finishing third in my age group in both the 2018 Cherry Creek Sneak 5K, and in the Loveland Lake to Lake Sprint Triathlon. I think it was pure determination and anger.
But then my attacker was caught, and the push and pull of the legal process started. Taking care of myself at that point meant getting out of bed, making myself food, going for lots of therapy and acupuncture, cuddling with my dog, allowing myself to cry, figuring out my new normal. Surviving.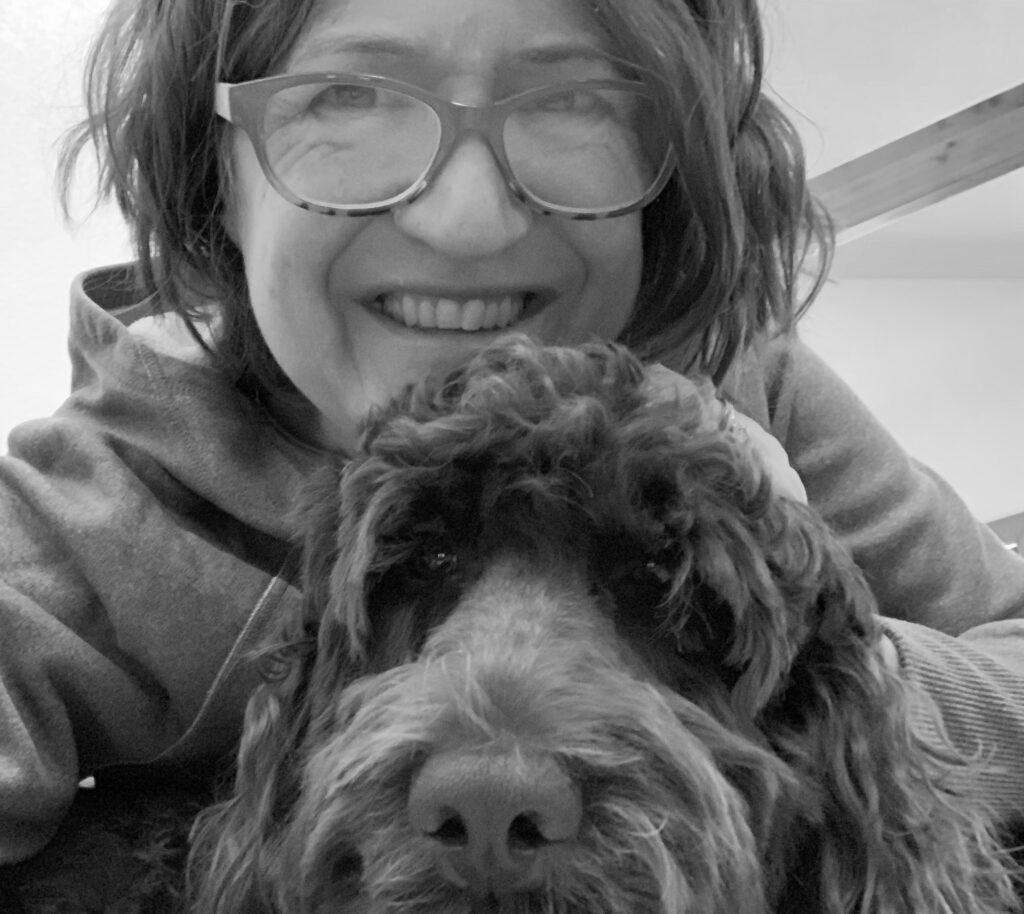 Training took a back seat. I couldn't figure out how to work, recover and do court, let alone much of anything else.
Since the court process for my case ended a year ago, I've started in bursts and starts of getting back what I had. Retrieving my health, slowly re-educating my body with workouts. I'm not working back up from level zero, granted, but maybe from a two or three. And with an extra couple of years of age tacked on.
But as I said in the beginning, I will get there.
I will keep moving.
I will keep starting again.
That baseball-cap-and-glasses, clean-cut con man; that middle-aged anomaly; that knife-wielding boogeyman; that interrupter; that interjector; that power-seeker; that monster; that injured soul. That person. That sick, violent person.
He will not take my health and fitness from me. I won't let him.
So there you go, Dad. I guess I was listening to your words, and I know you are smiling at that.
The accompanying art at the top is a selfie, which I took after swim training recently. I had fun adding doodles to the photo and then ran it through a Prisma filter.